Project Overview

[UPDATE 9/3]


- Post-SAGE edition released with some bugfixes and tweaks, including the Super music not playing by default.

==============
The Project:
==============
Colorful Encore 2.0 is an enhancement project for
Sonic Mania Plus
focused on reimaginated or revamped palettes for
Encore Mode
. Some of them were reworked from scratch with original themes, others are enhanced versions of the originals. It also improves some sprites and other visual assets.
Colorful Encore 2.0 is a HIGHLY improved version compared to Colorful 1.6 (uploaded on Game Banana some weeks ago). It's a refined and fixed update with better palettes,
new features
and tons of additional work.
===========
Features:
===========
New palettes for almost all stages. Some of them are revamped versions of the originals, others are completely different
Mighty and Ray tuned up with brighter tones to be more aligned with the new palettes and the other characters
There are some bonus features for Mania Mode: Better contrast for Lava Reef (1-2-3), better shading for sprites in GHZ, MSZ and upgraded bgs for SSZ1-2
OOZ1, SSZ1 and MSZ2 preserves the original palette for the most part, but they have modified assets as well
See the FAQ on "Bonus Content" to know how to delete any palette modified by this project.
As always, you will need the

Mania Mod Loader Plus

or the Data Folder method to play it

================
Comparisons:
================
ORIGINAL ENCORE VS COLORFUL
https://imgur.com/a/gJe15Qi
[NEW]
MANIA MODE AND SPRITES
https://imgur.com/a/yODzoYo
Screenshots and media!
Ok, here I will try to make some commentary for each zone in the game. I will also avoid to trash-talk any of the original palettes.
Sorry in advance for my average english
.
===================
Green Hill Zone:
===================
My testing routine for this stage: wake up, prepare some coffee, change the music to vaporwave and play it.
I tried to highlight Green Hill as a true lost paradise, with sun reflecting on water and strong colors under the sunset.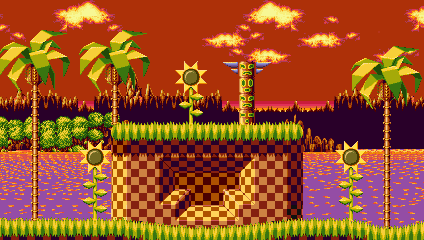 ---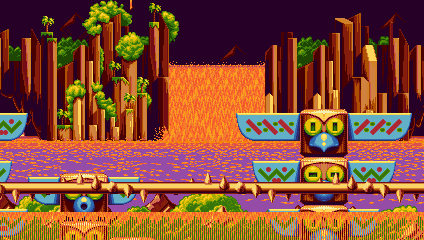 I recommend playing it with some custom music! Palmtree Panic (Past) is a good one.
===================
Chemical Plant:
===================
Chemical Plant with some nightlife! Despite being at night, I tried a more brighter and energetic scenario compared to the original. In act 2, the palette gives a kinda wacky and Sonic CD-ish vibe to the stage.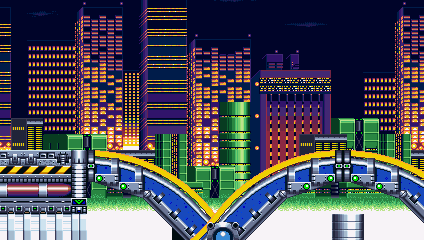 ---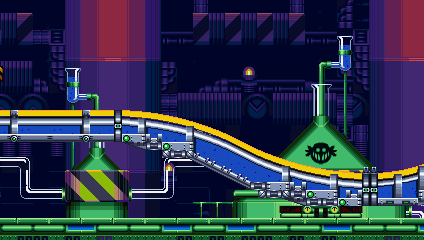 ==============
Studiopolis:
==============
A more surreal look based on carnivals and candy-look scenarios! After a long process of rebalancement, Act 2 preserved some colors from the original but also added another ones, with a strong presence of red tones.
---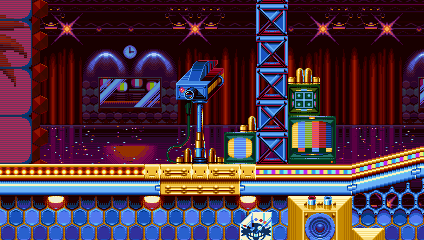 ================
Flying Battery:
================
Flying Battery was completely changed to night in reference to Sonic 3 Complete. It looks more like a desolated place than before imo. Act 2 have some dramatic lighting effects.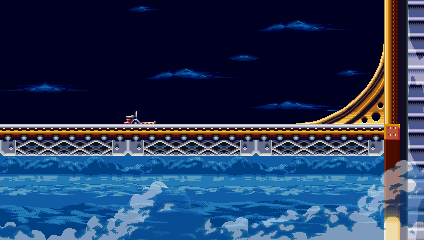 ---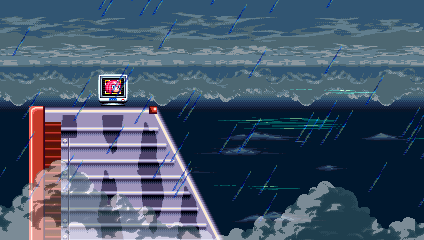 ================
Press Garden:
================
A colder rendition of Press Garden. Too cold that actually froze everything around!
Now it looks more like an ice stage then ever, with some slighly inspirations from Ice Cap Zone in Act 2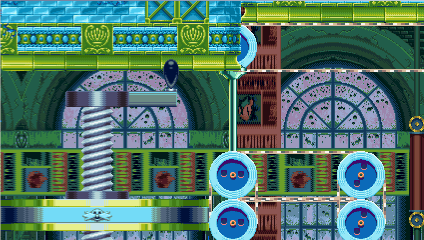 ---
If you played Colorful Encore 1.6, you will notice that PGZ is the zone changed the most. It was completely redone for 2.0!
=======================
Stardust Speedway:
=======================
Act 1 is a very preserved, but tweaked rendition of the original and with improvements for the stars and constellations. Act 2 was rebalanced aiming for a smoother look with better contrast. Also have a reworked sky background.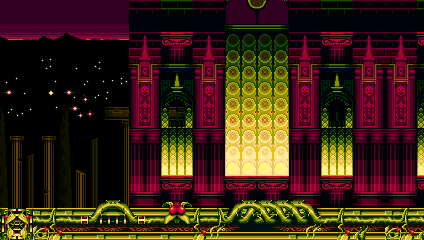 ---
==================
Hydrocity Zone:
==================
Ok, listen... Sonic 1 deserves some love right? I'm glad they at least remembered Labyrinth Zone in Encore Mode. However, I tuned-up that brown-ish background with more colors and brightness than before.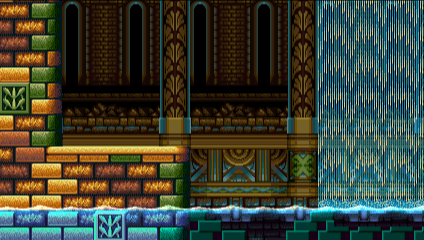 ---
The Act 2 background also have more hues of orange, yellow and red, making the stage a lot more interesting than the original.
==================
Mirage Saloon:
==================
The OC version have an yellow sky, for a tileset already fulled with yellow tones. I changed the sky to an evening blue and moved the sunset to the horizon\clouds, where it looks a lot better imo. All the other colors in this tileset was also changed with brigther or another tones.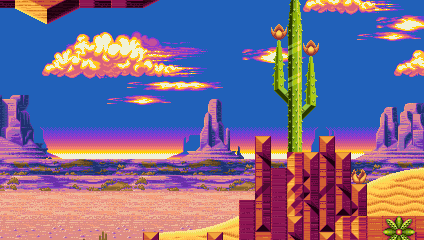 ---
There was a long process of rebalancement here. Act 1 changed A LOT from the original, even if doesn't look at first. Act 2 however was entirely preserved. I loved that surreal vibe with strong blues and phosphorescent colors.
==================
Oil Ocean Zone:
==================
For me and a lot of people, Oil Ocean Zone is one of the best Encore palettes. It just blends naturally with that blue sky, so I decided to not touch it. On Act 2, I gave more colors to the background, preserving that "smoke" effect the original have.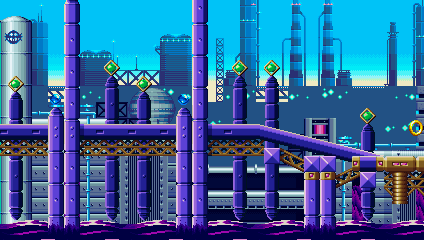 ---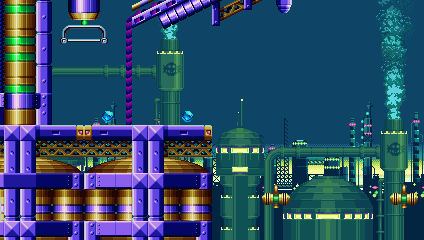 ==================
Lava Reef Zone:
==================
This one was very difficult to edit, because most of the animated colors are shared with Mania Mode, with I don't want to touch it. For act 1, I reinforced the idea of a hotter area (Encore Mode added that effect of "heat" here) with a lot of red and orange.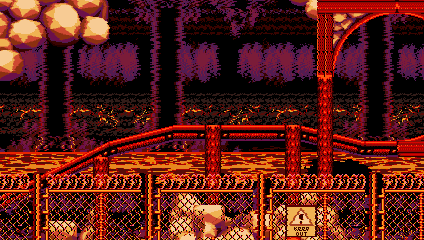 ---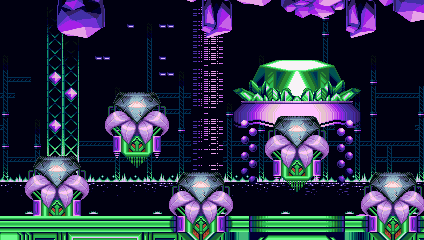 ====================
Metallic Madness:
====================
Being honest, I liked the original Encore Mode palette, but I understand why people can have problems with it. I made a version that tried to absorb the "Bad Future" idea, but being it's own thing at the same time. It's a lot shinier and colorful than before.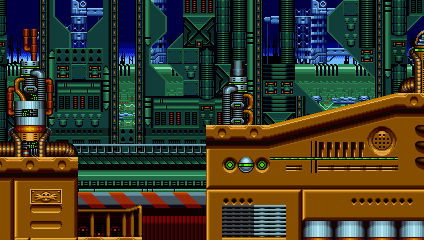 ---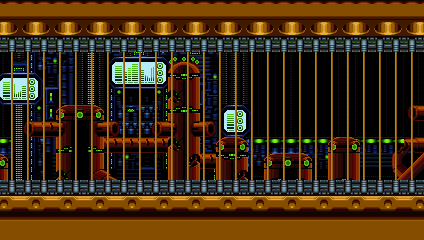 ====================
Titanic Monarch:
====================
The Encore TMZ is not only the last level from Encore Mode, but also for the entire game. I made it hellish and evil with red and orange hues.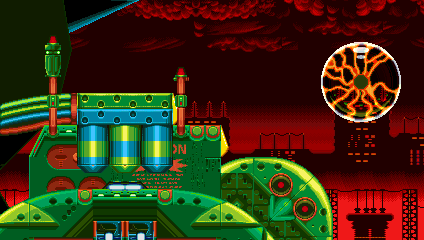 ---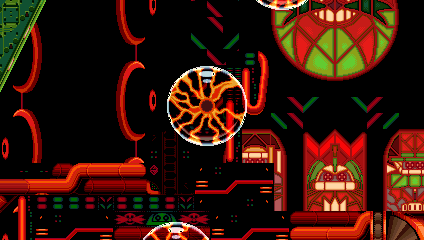 For Act 2, I tried something different, aiming for a scarier and twisted look. I also changed the background with offscreen assets and neon-like gears, giving it a very nightmarish and chaotic vibe.
=================
Phantom Egg:
=================
For the final boss, a new haunting palette inspired by the Phantom Ruby and Egg Reverie; Includes some assets from that zone as well (exclusive to Encore Mode).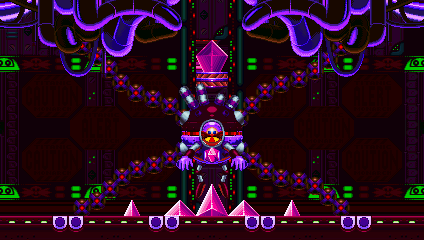 ---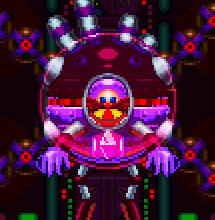 Bonus Content
==============
F.A.Q.:
==============
Q: I really liked your project, except for the "X" palette(s). Can I change it back to the original while keeping the other ones?
A:
Yes! Everything you need to do is: Go to the folder "Palettes" and delete the ".act" files related to the stages you didn't like. Then go to the folder "Stages" and do the same thing there, deleting the subfolder with that name as well.
Q: I don't like the changes you did with Mighty and Ray. Can I play your mod with the original characters?
A:
Yes: Go to the "Game" folder and delete the file "GameConfig.bin". Mighty and Ray will have their original palettes back. As a side effect, the altered layout in TMZ3 may be not exclusive to Encore Mode anymore. Other than that, everything will look the same.

Q: There is a bug in Titanic Monarch Act 1 where some colors changes to blue when you restart the level
A:
This is a Sonic Mania bug, not from my mod. I guess you just didn't noticed before. See: in Encore Mode, you aren't supposed to restart the level since the game swap the characters when you die. So I guess the programmers forgot to see what happened there when testing the game. idk.
Q: Why Press Garden isn't at night anymore? You didn't like it?
A:
Nope, it was changed because Flying Battery is at night as well. I tried to be as professional as possible with this project and If I had left another stage at that time of day, the game would have 5 zones at night in a row (CPZ, SPZ, FBZ, PGZ, SSZ) which would have been very repetitive. But give some chance to the new palette... it was completely redone for 2.0.

Q: Why didn't you changed Oil Ocean 1 or Mirage Saloon 2?


A:
I think these are very good the way they already are. I mean, OOZ1 is a fan favorite (and a personal favorite as well) and MSZ2 looks good enough in my book. I even tried to mess with them at some point, but I preferred how it was before.
But that doesn't mean I didn't change them in another ways: Despite the sameness in OZZ1, OOZ2 have a more colorful background. MSZ2 have an overhaul with sprites, including the animated barrel and the Roller badnik.
Q: How about Hydrocity Zone and Stardust Speedway 1 and 2?


A:

These have the same themes, but they are not the same palettes at all: Both have rebalanced or expanded hues, better contrast, shading and other tweaks here and there. Besides, SSZ1 have a better and more detailed sky (for Mania Mode as well) and I fixed some misplaced pixels for the constellations. SSZ2 also have an improved background for both Mania and Encore.

I didn't choose another theme or a new overall scheme for a couple of reasons: The bad future concept for example is perfect for SSZ2\Metal Sonic and I really liked the Labyrinth Zone reference in HCZ. Basically, I don't have anything bad against these and I know some people will be thankful for not changing them with something totally different.
================
Comparisons:
================
Automatic color swaps (may not be 100% acurate)
Colorful Encore 2.0 vs Original Palette:
https://imgur.com/a/gJe15Qi
(not complete)
Colorful Encore 2.0 vs Colorful Encore 1.6:
[WIP]



Mania Mode and Sprites:
https://imgur.com/a/yODzoYo
(not complete)
==================
TIP: This may not be the case for everyone, but on my pc the game looks a lot cleaner without shaders.

If this is your case and you want some better fidelity with pixels and colors, try to turn off the "shaderSupport" on Settings.ini. Unfortunately, It only works for Windowed Mode, at least on my pc (it's worse on Fullscreen).

However, I think it's a decent option if you change the window size to 3x (on the DevMenu). As I said, I don't know if this happens with everyone. You can change it back re-enabling the "shaderSupport" on Settings.ini at any moment.